at Woodland Grove Health and Rehab Center in Jacksonville, FL
This level of care is for those needing a short rehabilitation or nursing stay to transition back to their prior level of care. Most of the patients seeking this care have experienced surgery, a stroke, or some other sort of debilitating setback. Their physician expects them to make a recovery and return to their prior level of functioning.
Rehabilitation Services and Amenities Include:
Woodland Grove Health andf Rehab Center staff are dedicated to improving the strength, mobility, and independence of our short-term rehab guests so they can return to their daily lives as quickly as possible. The customized therapy plan may include one or more of the following therapies: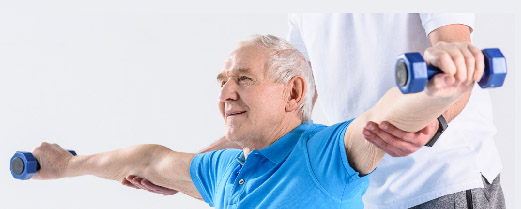 Physical Therapy
Occupational Therapy
Speech Therapy
Respiratory Therapy


Our certified therapists will use several different techniques on different equipment that work your body, mind, and coordination. Our modern rehabilitation gym is the ideal recovery environment. Individualized treatment plans are developed with the goal of prior level of functioning being the target.
Meeting Short-term Rehabilitation Benchmarks and Milestones
Often with short-term therapy, there will be specific benchmarks and milestones we are looking to help you accomplish. One of the benefits of working every day is we get to see how you are progressing to help you get where you need to be. Our therapists want to get to know the whole person. This includes the activities that are important to you, both as hobbies and those necessary to daily living.
We will celebrate the milestones you make, the benchmarks you reach and the goals you achieve. Our certified therapists know how to bring out the best in each person. Schedule a visit and tour our gym to see how we can bring out the best of you or your loved one.
Rehabilitation Services and Amenities Include:
Private Suites / Companion Suites
Admission Seven Days per Week
Focused Individualized Physical, Occupational, Speech, and Respiratory Therapies
IV Therapy
Wound Care
Complex Nursing Services
Social Services
Recreational Programming
Separate Short-Term Units
Dietitian Consultation
Exclusive Dining Room with point-of-service Dining
Personalized Discharge Coordination
Continuing After Short-term Care
Once you have reached your prior level of functioning, we can help with coordinating any continuing care you may need.
We are honored when a patient and their loved ones choose to call Woodland Grove Health and Rehab Center their home and are here to provide the assistance you need, should the need arise. We are here for you!